Discovery software recommendation
Hello everyone!
I'm looking for recommendations on software for searching and reviewing documents for corporate investigation cases. We already use FTK, but a lot of times we hire external help for reviewing.
I'm responsible for most of the collection and processing, using FTK, that will be later reviewed by the legal department or external consultants. What software would you recommend that is easy to install (or doesn't require installation, like network use), easy to use (most lawyers can barely type with 2 fingers) and has at least basic searching functionalities. They would basically have to go through a list of files and flag anything useful or suspicious, nothing fancy. And most importantantly, that won't cost us much!
We mostly deal with e-mails and PSTs, but also MS office docs, PDFs and other common file formats any average business user would have.
I'd really appreciate any insights.
Thanks!
Topic starter
Posted : 15/10/2019 9:42 pm
Intella is pretty good for your requirements. Do you need a package which supports multiple reviewers, tagging documents, OCR, etc?
Posted : 17/10/2019 2:17 am
…. Intella
Has searching capabilities that allow users to go through a list of files and flag anything useful or suspicious.
It is also easy to install, use, and is totally affordable.
It's always good to learn about software I haven't used yet. Will definitely keep it in mind. Thanks.
Posted : 17/10/2019 3:26 am
You can try Belkasoft Evidence Center it supports analysis of the files you mentioned as well as many other types of files and devices.
The data you extract can be subsequently analyzed and a connection graph can be built.
The case data can further be uploaded to a Portable Case which is easy to assess and look through when it comes to your clients.
Here is how such a graph may look like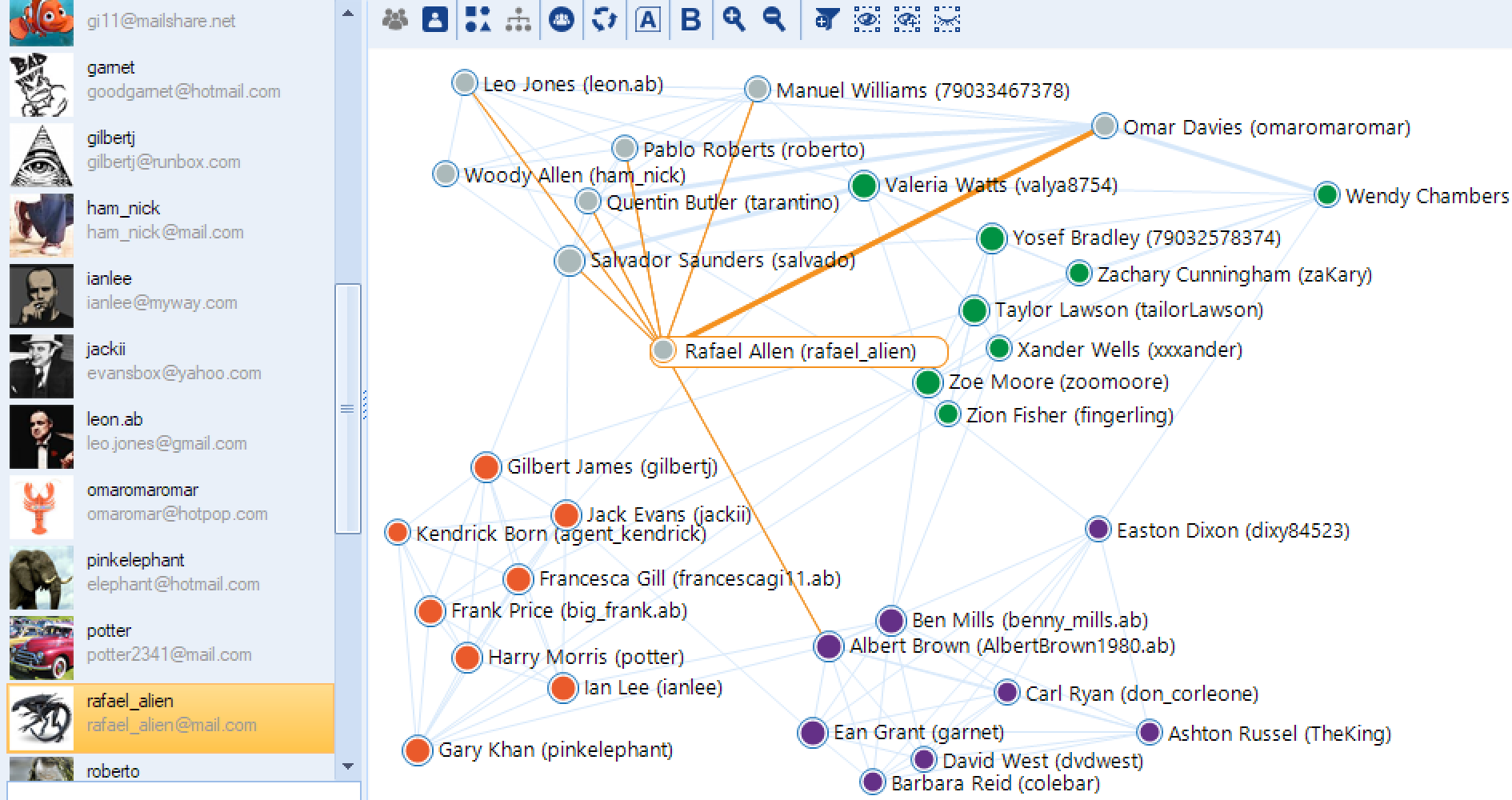 Posted : 17/10/2019 4:30 pm
Intella looks promising! Apparently it has all the features I need, several different solutions, plus I really like their licensing model. I'll download the trial version and tell you later what I find.
Thank you for the recommendation!
Topic starter
Posted : 18/10/2019 3:08 pm