Software suggestions for a "geek policeman" in the context of a TV serie?
Hi everyone,
For a TV serie, one asked me to create the setting of a room for a "geek policeman" doing forensics. The actor of the serie knows nothing about forensics but I will be there to assist him a little if necessary. We mostly we need to create an atmosphere.
As I understood, this character will be funny, out of the standard, and this lets us some freedom for the setting. However, I would like the tools used to look realistic to your expert eyes. 🙂
It must be easy to use for the player (e.g. some scrollable timeline with prepopulated demo data).
I plan to bring there several harware like docks, hard drives, cables, readers, soldering station ...
There will be at least four monitors, including one dual screen configuration.
I'm considering running MHDD (performing a disk surface check) on one computer.
On another, maybe a Linux forensic CD, or Knoppix with the voice synthesis if they allow it 😉 .
I'm looking for suggestions about what should I display on the two additional monitors of the computer running Windows. Probably some hex editor, a timeline, and your other suggestions.
Basically, we don't plan buying forensic software only for the movie, but my hope is you have some software with a trial period or some freeware to suggest.
Of course if we can avoid some intrusive splash screens asking to activate the trial, would be better.
Thank you for your suggestions !
Topic starter
Posted : 10/10/2020 6:42 pm
Not to offend but your idea kind of sucks and somewhat cliche? Many Tech people watch these series and its kind of a joke. If that what you are going for then do it. It reminds me of this 
https://www.youtube.com/watch?v=hkDD03yeLnU
If you ever watch Mr. Robot that is what you should example it off of. They did a great job. If you are looking for a decent set up buy cheap stuff off of ebay like tableau, or cellebrite units. You can buy the non forensic ones too hell the News cant even tell the diffrences they go for like $75 Ebay.
I would use a forensic linux distro and maybe have Autopsy open or forensic software. Maybe a drive imaging. But watch mr robot.
youtube.com/watch?v=i9CBKGLVCME
Posted : 11/10/2020 2:51 am
Posted : 11/10/2020 8:41 am
If you ever watch Mr. Robot that is what you should example it off of. They did a great job. ...

 But watch mr robot.

youtube.com/watch?v=i9CBKGLVCME
It is good to see how opinions may differ.
Things that simply do not "compute" (to me):
1) completely dark room with a lighted keyboard (the character faces are seemingly only lighted by the monitor backlight BUT the numbers scribbled on the BBQ pamphlet are readable)
2) transcribing directly from numbers to characters (anyone in his/her right mind would have typed the numbers and have the computer convert them)
3) not even a single (number reading or character conversion or typing) mistake
4) time to recognize a ROT-13 between 20 and 50 milliseconds
5) separating "woodstheybeerdos" into "woods they be erdos" at first try (and not "woods they beer dos") given that Erdos is not exactly like Smith as a surname and beer being a common enough word
6) crossing numbers with a pen on the original 
7) time to understand that the remaining numbers are hex numbers (and conveniently typing them separated with spaces) between 20 and 50 milliseconds
8) time to recognize from the sequence 32 35 31 41 53 45 43 52 45 54 21 translated to *something* (ASCII)  "251ASECRET!" that it is a telephone number 30 to 100 milliseconds
And now, for no apparent reason:
https://github.com/Ciphey/Ciphey
jaclaz
Posted : 11/10/2020 2:19 pm
I'm looking for suggestions about what should I display on the two additional monitors of the computer running Windows. Probably some hex editor, a timeline, and your other suggestions.
If you say the person is a geek and not trained, the character maybe likely to learn from watching videos of procedures envolved for extracting evidence from smartphones. The photo is from a video to demonstrate how to place a phone into EDL mode to gain access.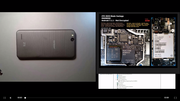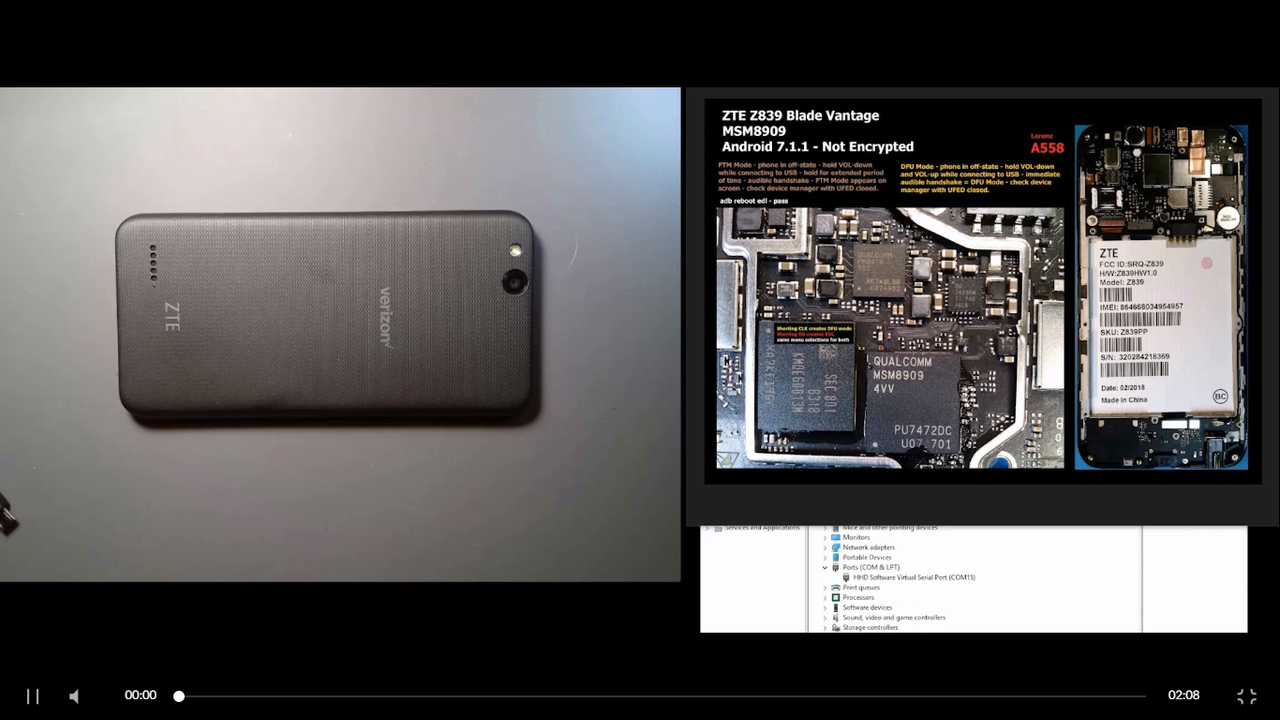 Posted : 12/10/2020 4:05 am
caine is free
tsurugi linux is free
ftk imger is free
Posted : 12/10/2020 1:54 pm
Thank you for all the good suggestions.
In this case, the geek is just one character of the serie, and the sequences are short.
The movie is not centered around hacking or so.
I learned that "tech" and "movie decorator" are two different jobs and both have to learn from each other in order to converge to a compromise.
Among cliches, one that I had to fight a little was a room with tons of screens and hardware, altough I had to make some concessions.
Although tech people watch series, the decor must be visually appealing to the general public, and the atmosphere matters more than a total accuracy.
For instance, there are objects here and there like cofee cups which would not necessarily be present in a real context. (I myself avoid the presence of liquids when computers are on !)
In fact movies are like comics ; they need to look credible enough to the big kids we are, but don't need to be the exact truth.
There are many people on the stage and players have to focus on their role ; there is really no time to learn them anything.
Almost verything is automated (typically with animations played in full screen), computer actions being made in playback. In animations you may see such unlikely commands as "cd dir" 😉 because they're done by people that are not IT guys, but it is visually appealing and the screen is filmed blurred, so everyhing is ok.
Computers in the decor "play" something that must be visually appealing as well. In this regard, in Linux, a verbose shred, or a drive surface check with MHDD, is more appealing than a cloning session, because this makes screens more "alive".
We avoided the beautiful cleanroom cliche that jaclaz mentioned, as well as the hacker is the dark atmosphere (of Mr Robot).
We created a decor in the middle of a classical desk and a small data recovery workshop, with some written notes and prints from forums on the walls, and few software screenshots.
I believe the result is visually pleasing, and reasonably realistic.
The idea of a used Cellebrite unit was pretty cool, altough we did not need it at the end because I already had enough hardware.
Thank you also for all the links to the Linux distros, Ciphey, a.s.o.
There seem being some really cool stuff that I should look at.
Topic starter
Posted : 05/11/2020 3:03 pm
when the movie is ready, let us know!
Posted : 05/11/2020 4:57 pm
Years ago, collegues and friends told me about mr robot... They were all enthusiast about the serie. A day in a shop I found the original DVD for 9.99 I bought it...
I don't want to be rude here in this site, so I say only I didn't like it. Orrible and stupid
Posted : 05/11/2020 5:32 pm