Angle grinders and power drills, as required by the UK gov
http//www.theguardian.com/world/2013/aug/20/nsa-snowden-files-drives-destroyed-london
Talks began with government officials on a procedure that might satisfy their need to ensure the material had been destroyed, but which would at the same time protect the Guardian's sources and its journalism.

The compromise ultimately brought Paul Johnson, Guardian News and Media's executive director Sheila Fitzsimons, and one of its top computer experts, David Blishen, to the basement of its Kings Place office on a hot Saturday morning to meet two GCHQ officials with notebooks and cameras.

The intelligence men stood over Johnson and Blishen as they went to work on the hard drives and memory chips with angle grinders and drills, pointing out the critical points on circuit boards to attack. They took pictures as the debris was swept up but took nothing away.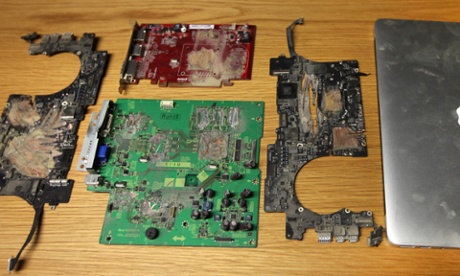 No, seriously. 😯 ?
I would have preferred thermite, personally.
http//hackaday.com/2008/09/16/how-to-thermite-based-hard-drive-anti-forensic-destruction/
most probably it has been excluded because of pollution/environmental issues with the EA.
Lesson learned is
Do not use plastic cups, as the coffee gets a bad taste and wink
However, in a subsequent meeting, an intelligence agency expert argued that the material was still vulnerable. He said by way of example that if there was a plastic cup in the room where the work was being carried out foreign agents could train a laser on it to pick up the vibrations of what was being said. Vibrations on windows could similarly be monitored remotely by laser.
jaclaz
Posted : 29/08/2013 4:18 pm
[satire]
. . . wait . . . I get it! The Guardian News employees could talk about the documents, which could be picked up on the coffee cup by Chinese and Russians!
I know! Ban coffee AND why not just take grinders to the Guardian News employees!
Once that process is complete, we can go back to coffee in organic recycled free-range paper cups.
. . . hmmm . . . come to think of it . . . those employees might have families and friends they talked to . . . NO PROBLEM!
How about we just take grinders to third level of connection (Guardian News employees' contacts' and their contacts' and their contacts)? THAT should work!
AND, make the next few tiers watch the process! Even better, perform the cleansing process!
Works for North Korea!
Wait, what are you saying? That this is already leaked and posted in thousands of other mirrored sites? IRRELEVANT. And, since you disagree with our proven methods you must be a leaker and placed on the list to be cleansed.
Please do not forget to bring a towel on Friday when you report in for your cleansing process. After all, you cannot expect us to clean up all the mess you make.
This whole mess is all your fault after all, and your feeble attempt to blame it on our purported, alleged, and so called lack of security is your way of deflecting responsibility for your un-patriotic actions.
We are the Government, and we are here to help.
[/satire]
mrgreen
Posted : 29/08/2013 6:46 pm
If they were looking to completely destroy the computers, they should have just left them in a room my children for a few minutes!!!!!
Posted : 29/08/2013 6:55 pm
A "computer expert" assisted in that!!?
The word overkill comes to mind )
Posted : 30/08/2013 6:46 am
I find it a very strange mix of sadism (inflicting pain for no reason on poor chips), masochism (actually doing that on your devices) and utter stupidity.
If I were one of the Guardian guys I would have wiped with one pass off 00's the disks, and handed the devices to the "Government guys", so that they would be able to verify that they contained those info before having been wiped wink .
@Adam10541
Seemingly the Guardian "computer expert" was the one actually grinding chips, whilst the GCHQ "computer expert" told him which chips to grind. 😯
I would also highlight how - at least according to the mentioned article - the G-men did not verify that those PC's actually contained (or ever contained) those info.
For all they were able to see/verify, the ones destroyed could be *any* PC's or hard disks.
To cite again the article
But it was largely a symbolic act. Both sides were well aware that other copies existed outside the UK and that the reporting on the reach of state surveillance in the 21st century would continue.
"largely symbolic" must be read as "completely senseless".
The recent High Court decision on the work of Mr. Garcia
http//www.theguardian.com/technology/2013/jul/26/scientist-banned-revealing-codes-cars
http//www.theinquirer.net/inquirer/news/2285482/luxury-car-hacking-findings-blocked-by-high-court
is - in comparison - an example of effectiveness! ?
"It has decided to defer publication of the academic paper in any form while additional technical and legal advice is obtained given the continuing litigation. The University is therefore unable to comment further at this stage."

The imposed interim injunction means that Garcia, along with the paper's co-authors Roel Verdult and Josep Balasch, cannot publish their paper at the Usenix Security Symposium held in Washington DC in August, as they had anticipated.

However, the presentation, entitled Dismantling Megamos Crypto Wirelessly Lock-picking a Vehicle Immobiliser, is still listed online for all to see. µ
http//www.cs.ru.nl/~flaviog/publications/Gone_in_360_Seconds_Hijacking_with_Hitag2-USENIX_2012.pdf
jaclaz
Posted : 30/08/2013 10:33 pm
I have one word, and only 1 word that shows how stupid this is
Cloud.
Posted : 30/08/2013 11:31 pm
I have one word, and only 1 word that shows how stupid this is

Cloud.
Out of curiosity, which word do you have for someone that attempts to trademark "your" word?
http//www.computerworld.com/s/article/9111588/Dell_defends_its_cloud_computing_trademark_bid
http//www.theregister.co.uk/2008/08/18/dell_cloud_computing_denied/
wink
jaclaz
Posted : 31/08/2013 12:44 am
If they were looking to completely destroy the computers, they should have just left them in a room my children for a few minutes!!!!!
Oh, I know!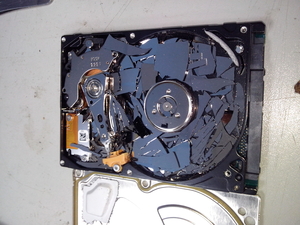 Posted : 31/08/2013 1:13 pm