Magnet Forensics is very excited to share some of the great new features in Magnet REVIEW 4.0—helping digital forensic examiners bring their investigators and the evidence they need together by enabling secure agency-wide collaboration anytime and from anywhere!
With the ever-increasing volumes and complexity of data involved in the typical digital investigation today, delivering a truly modernized digital evidence review experience is critical—both for digital forensic examiners in the lab and the investigators and other stakeholders relying on that evidence to help make their case in court.
Examiners often struggle to not only process and analyze digital evidence but also share it securely and effectively. Investigators, meanwhile, can grow frustrated as they wait for evidence to arrive and spend too much time to find the evidence that matters once it does.
As part of the Magnet Digital Investigation Suite, REVIEW was specifically designed to address the needs of both examiners in the lab and non-technical reviewers, helping them to work together to quickly and easily find the evidence they need in their digital investigations.
With REVIEW 4.0, we've delivered a lot of great innovations to help advance the user experience for both examiners in the lab and the investigators and other stakeholders reviewing evidence. That includes new ways to filter, sort, and present artifacts so investigators can get to the evidence they need faster and easier, convenient summaries of valuable device information at-a-glance, and new reporting features to help investigators better tell the full story of their evidence.
To learn more about Magnet REVIEW 4.0, check out our product page.
Bring Focus to the Evidence That Matters in REVIEW 4.0
When providing digital evidence to reviewers, some evidence items will be more relevant to their case than others. Further, certain items like chat messages across multiple devices and applications can make sense to combine to follow the entire flow of the conversation more easily.
With REVIEW 4.0, we're providing examiners with powerful new ways to customize how key artifacts are presented to investigators so they can help them get right to the evidence items that matter.
Primary/Secondary Artifact Classification
The new Primary/Secondary Artifact Classification in REVIEW 4.0 is a massively useful tool to help you guide investigators to the evidence critical to their case by allowing you to filter less relevant items out of their initial view—helping them to focus their time where it matters most.
With Primary/Secondary Artifact Classification, examiners can configure which artifacts are presented first within the Evidence Dashboard, greatly reducing the amount of data initially being presented for less technical viewers. Admins can assign the order that these primary artifacts are presented in, with the most important columns appearing right at the front, simplifying the way users can see key details.
Artifacts denoted as secondary will be initially hidden from view but can be easily expanded and viewed by the user if desired. They remain discoverable via searches or filters.
This experience also carries over to the Artifact Details view, where users will see the primary details first, and in the same order presented within the Evidence Dashboard table for a consistent experience across these views.
Multi-Artifact View
A great complementary feature to primary/secondary artifact classification is REVIEW 4.0's new Multi-Artifact View (MAV). You can now view all artifacts in a category in a single view, saving users valuable time when reviewing artifacts across multiple devices and apps.
For example, a suspect might have a conversation going across multiple communication apps. With MAV, multiple chat messages from different chat apps can be brought together, helping investigators to track the full conversation in a more straightforward way.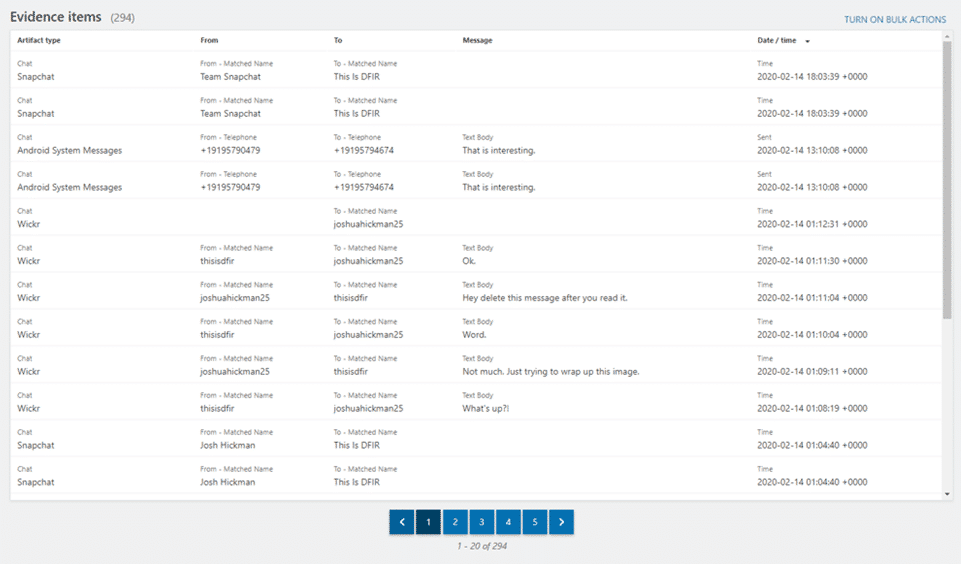 MAV also helps you to bring further focus to the information that matters. When multiple artifacts are being displayed in the category view, users can now see a quick summary of the highest priority artifact details, which can be customized according to your users' preference.
See Important Information at a Glance with REVIEW 4.0
In addition to streamlining the evidence presented to reviewers, the latest version of REVIEW brings a valuable new feature to help reviewers quickly see important information from the source devices included in their investigations
With REVIEW's new Device Dashboard, investigators and other reviewers can quickly view details from devices like smartphones and computers in a useful at-a-glance summary. When users click on any of the source devices listed in their case, they'll be presented with the Device Dashboard, with category cards including:
Top Identifiers: This card includes top identifiers surfaced from the device, like names, phone numbers, email addresses, along with the number of occurrences.
Most Recent Communications: This card provides a powerful summary of the recent chats, calls, emails, etc. made from the device, including both inbound and outbound.
Device Information: This includes device details like make and model, IMEI, phone number, and more.
Investigators can also see useful information regarding the device extraction itself, including the date created, source tool used, and SW version, under the under Manage Evidence Source option included in the dashboard.
More Visual Reporting to Help Tell the Story of Your Case
When it comes time for investigators and justice stakeholders to make their case in court, your reports need to present your evidence as clearly and impactfully as possible.
REVIEW 4.0 includes exciting new reporting enhancements that will help your investigators tell the story of their case in even more compelling ways!
With our new Chat Thread Previews, report authors can now include chat evidence from sources like WhatsApp with a native viewing experience, including any embedded media within the chat messages like pictures and videos. These previews are included in your reports as a hyperlink that investigators can click to view the conversation in any web browser.
By leveraging MAV and date/time sorting, we've added the ability to present artifacts like chat conversations – even those happening across multiple devices and app – in chronological order in your reports, so that report readers can more easily follow the story of the evidence.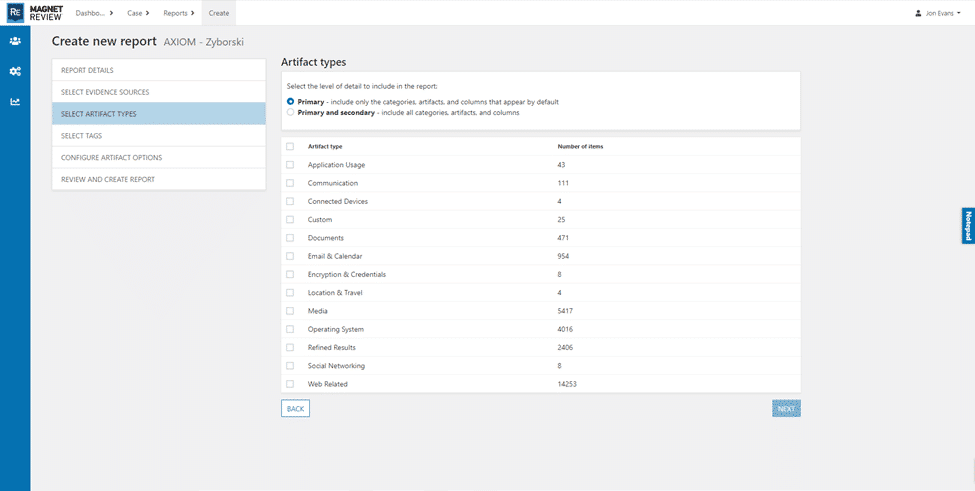 We've also provided report creators with the option to exclude artifacts denoted as secondary from their reports if they choose, which can help greatly in focusing the reader's time on the most critical evidence items.
With Magnet REVIEW, we're helping you streamline the digital evidence review process so your investigators and other stakeholders can quickly get to the evidence that matters. Join Nicole Davis, Senior Product Manager, and Jonathan Evans, Senior Product Marketing Manager, as they show you some of the most exciting new features in the latest version of Magnet REVIEW—including new ways to sort, present, and report on evidence to help your investigators see the full story of their case.
Get Started With Magnet REVIEW Today! Reach out to our experts and let us help you empower your agency to securely collaborate on digital evidence review from anywhere, anytime.